Public service UX, design, governance, responsibility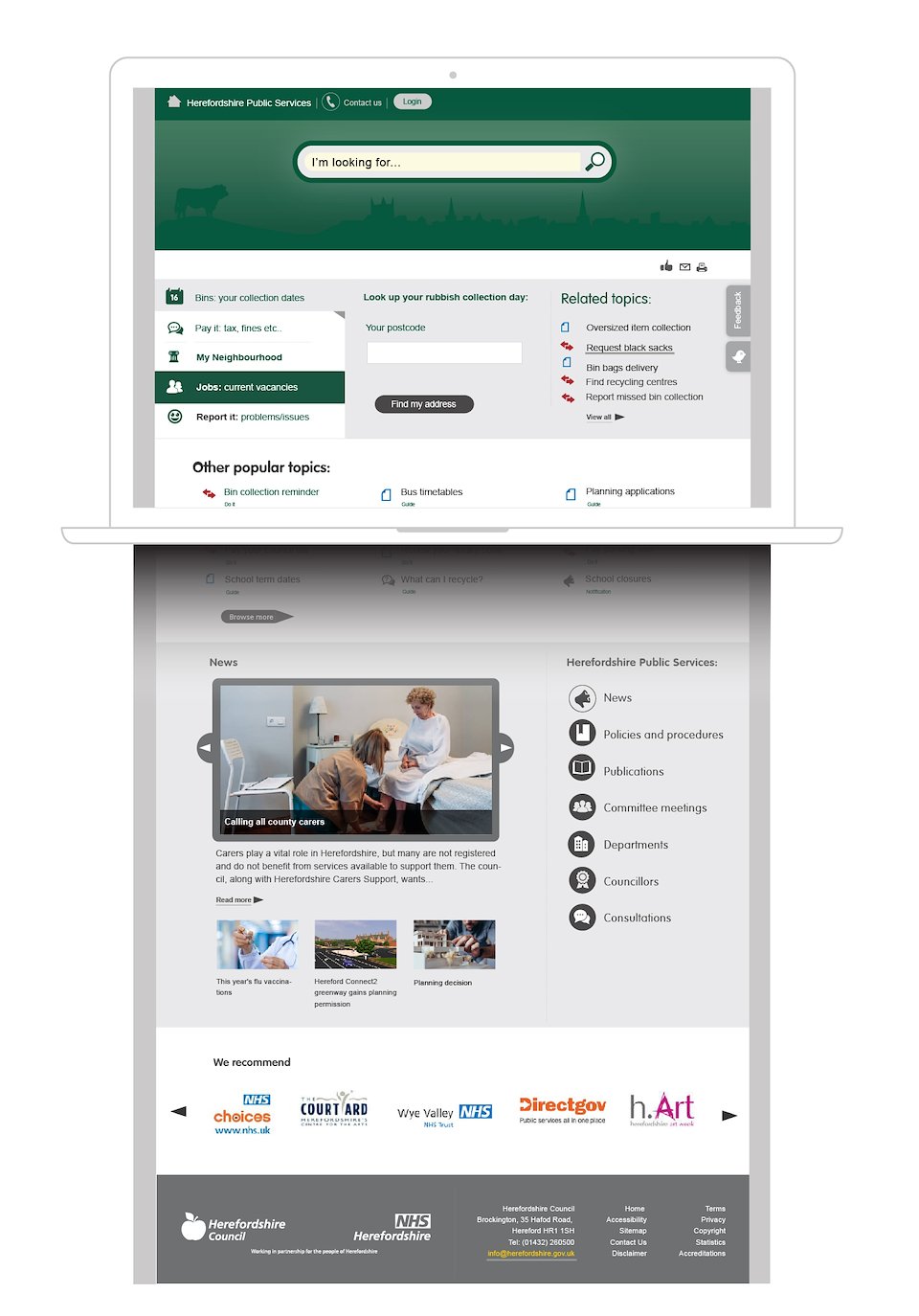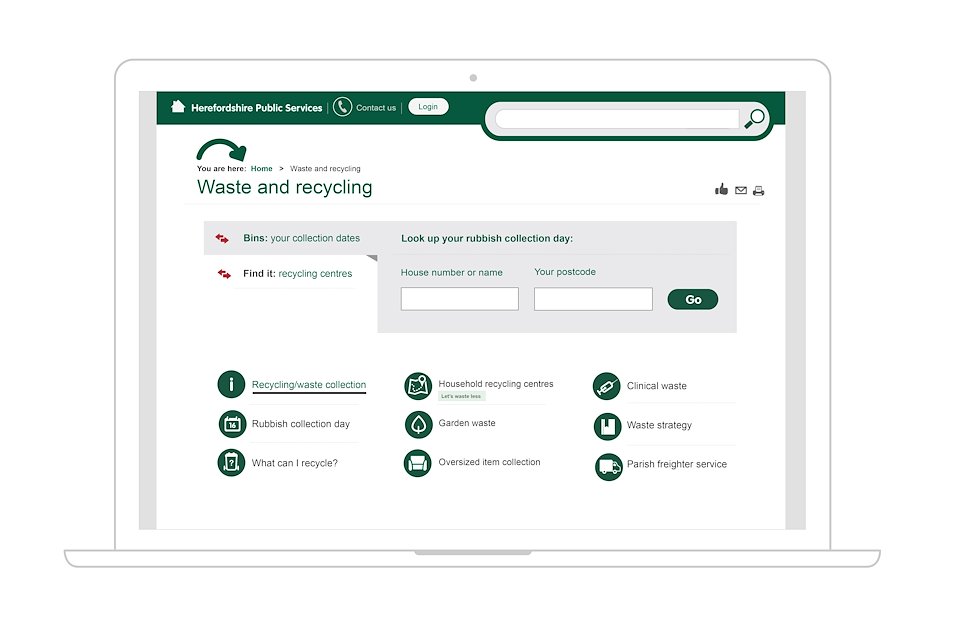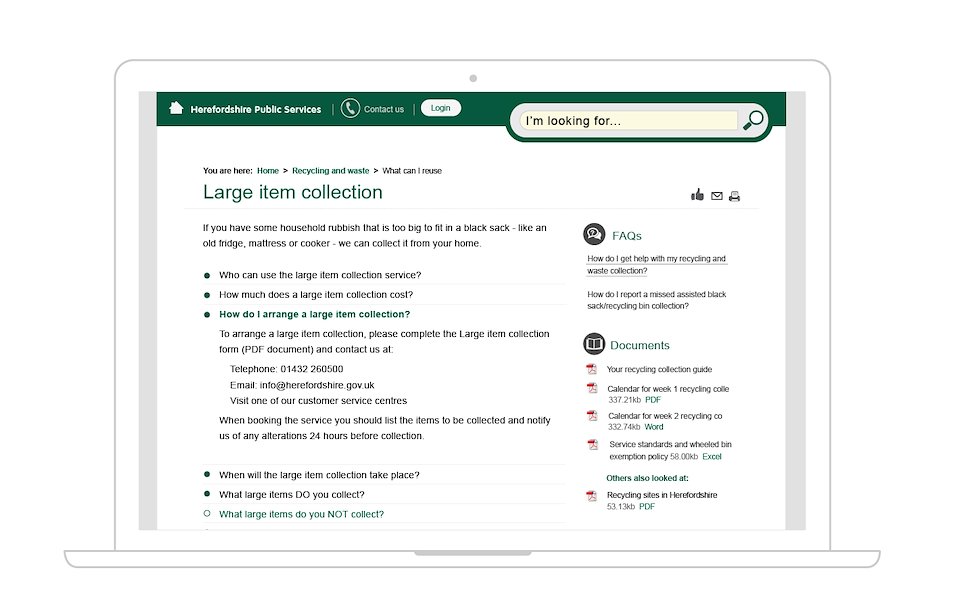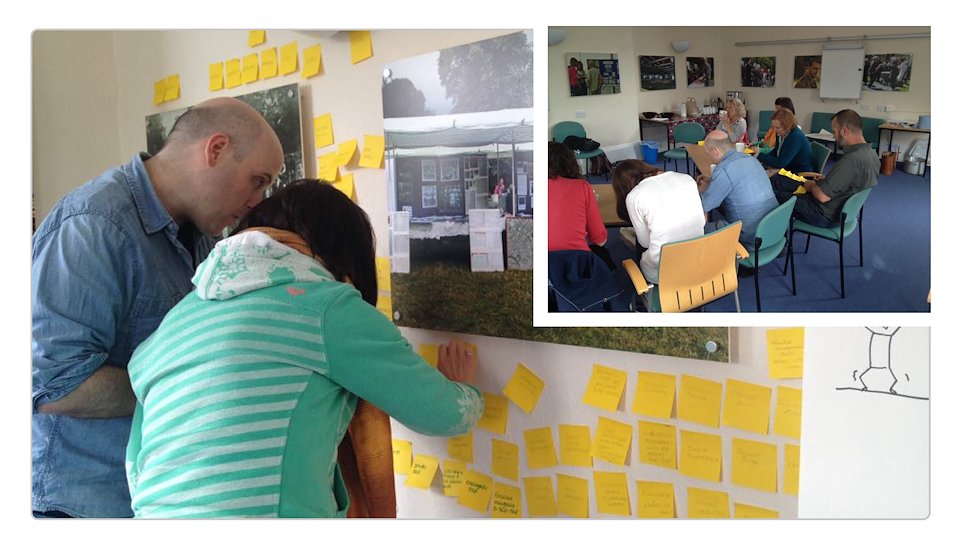 User and business requirements workshop with representatives of various departments.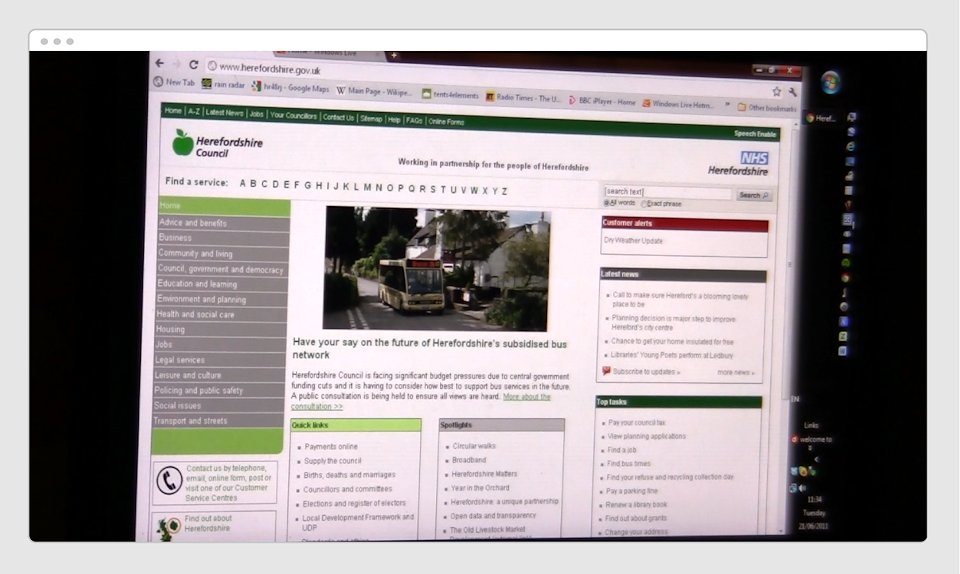 On site usability testing with members of the public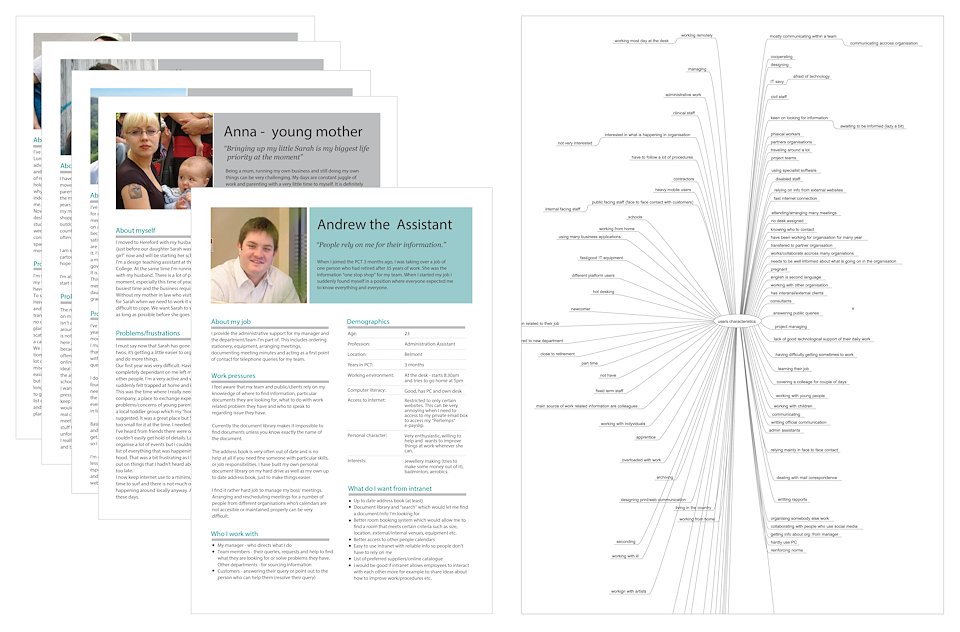 Personas built based on interviews with members of council staff, member of the public, contextual enquiries, surveys
Lo fidelity prototype prepared to get buy in of Council's senior management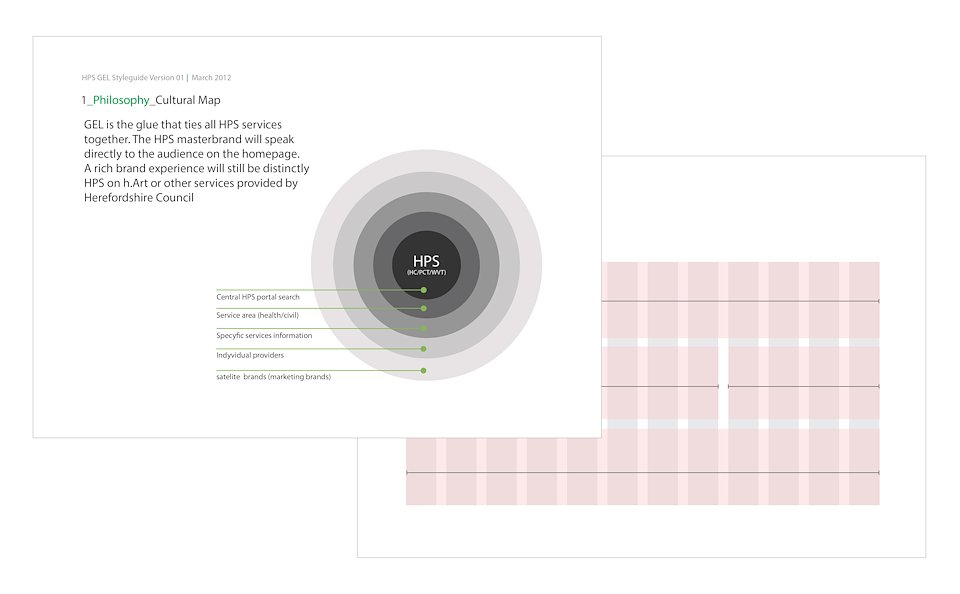 Global visual language for the online public service (extract)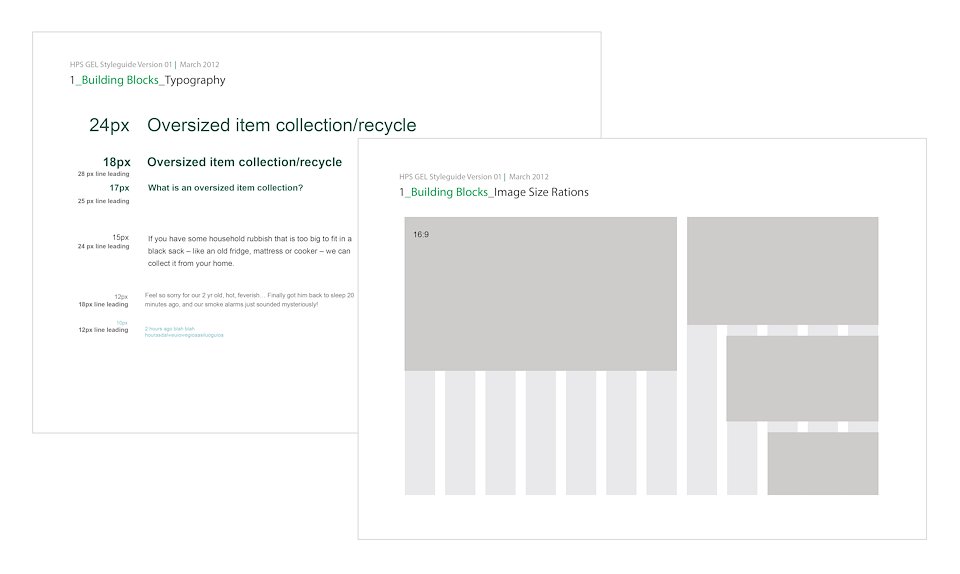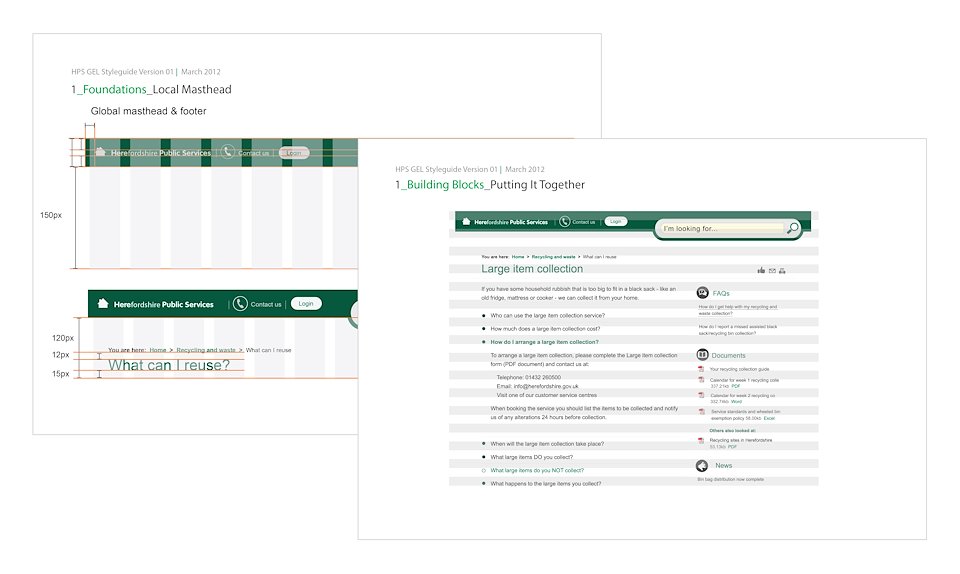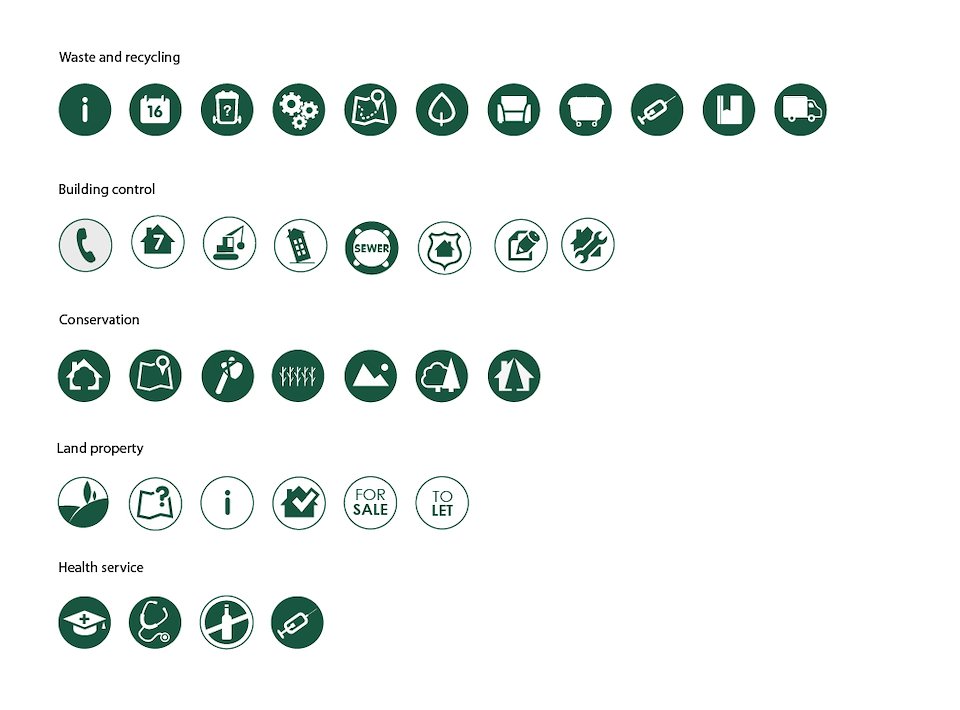 Description
I played a key role in the redesign of a cross-system online solution for the public services intranet and public portal in the English county of Herefordshire. This incorporated the duties of UX researcher, designer, usability and accessibility advocate.

The Council's existing online presence was focussed on broadcasting information, rather than engaging with citizens' needs. A project was developed to create a single contact portal as a "one-stop shop" for all local government information and transactions in Herefordshire, including health services.

I was invited to apply for the role of New Media Designer at the Council on the basis of my graduation show. The external portal had to serve all members of the community, demanding a meticulous approach to accessibility and usability.

I gathered and analysed user requirements via workshops, surveys, interviews, and contextual studies, plus usability testing and user modelling. I also provided broader usability and accessibility expertise to the project team.

I created high and low fidelity prototypes/wireframes for both interaction strategies and graphical user interface.

I developed a signature visual style for all online services managed by Herefordshire Council and NHS Herefordshire, and co-managed the online brand across more than 24 websites and a range of business applications. Providing graphical assets to the team of developers, I also contributed to the development of in-house brand materials such as presentations, proposals and web-material.

The portal was launched in 2012 and saw a rise in the council website's rating in the Better Together awards run by Socitm, the UK society for IT practitioners in the public sector.

CONTEXT
Amalgamation of online public services for a rural English county.

PROBLEM
Redesign of external website & Intranet, incorporating diverse public services including health & council services. Accessibility for the entire community was paramount.

SOLUTION
Fully accessible single point of contact for the community, based around a "one-stop shop" website with search facility, plus links to anticipated common needs & transactions.

APPROACH
Focus on organisational goals & how they are met by online service. Interviews with key stakeholders including senior management and frontline staff, plus members of the public.
Early prototyping to secure management buy-in and budget for the full website overhaul, applying best practices from contemporary UX research. UX design followed by development using an iterative agile methodology. Extensive testing for all accessibility needs & issues.

LEARNINGS
Designing for the web to balance usability, accessibility, and aesthetics – from design rules to process management. Self-directed learning and on-the-job experimentation to deliver successful results. The reality of large scale projects and managing new media design across a large organisation, remaining focus on goals and long-term strategic outcomes.
Role
UX researcher, designer, usability and accessibility advocate
For
Herefordshire Council, NHS Herefordshire